UPF - Secretariaat
Kamelenspoor 60
3605 EC Maarssen.
Tel: 0346-572989
Tel: 070-3835938
E-mail: info@upf-nederland.nl

---
Citaten
"Een mens begint pas te leven zodra hij voorbij gaat aan zijn eigen beperktheden en zich betrokken gaat voelen bij het wel en wee van de mensheid"
Martin Luther King Jr.
"Ieder mens is geweldig omdat ieder mens kan dienen. U hoeft geen diploma van de universiteit te hebben om te kunnen dienen; u hoeft Plato en Aristoteles niet bestudeerd te hebben om te dienen. U hoeft de relativiteitstheorie van Einstein niet te kennen om anderen te dienen. Alles wat u nodig heeft is een hart vol dankbaarheid"
Martin Luther King Jr.
"Je moet eerst zelf veranderen wil je de verandering in de wereld zien."
Mahatma Gandhi.
"Kunt u zich herinneren hoe theorieën over elektrische stroom en onzichtbare golven bespottelijk werden gemaakt? De kennis over de mens staat nog steeds in de kinderschoenen."
Albert Einstein.
"Er komt geen vrede tussen de volkeren zonder dat er vrede komt tussen de religies."
Hans Kung.
"Zalig zijn de vredestichters want zij zullen Gods kinderen genoemd worden."
Jezus, Mattheus 5:9
"Het eerste wat we moeten doen is Gods rijk in ons zelf zoeken. Daar ligt de vrede. Zodra we de vrede gevonden hebben, hebben we onze steun gevonden en tevens onszelf."
Jnayat Khan.
Indien iemand je een vuistslag geeft, doe dan niet hetzelfde. Ga naar zijn huis en zoen zijn voeten."
Sikhismen, Adi Grant.
"Als je naar God gaat dan vind je vrede in je hart."
Islam, Koran.13.28
"God is vrede, Zijn naam is vrede en alles is samen gebundeld in vrede."
Jodendom,
Zohar, Leviticus 10b
"Door Zijn genade kun je absolute vrede vinden."
Hindoeisme,
Bhagavad Gita 18.61.62

Nieuws vervolg:
Conferentie in Bergen aan Zee, 9-11 april 2010
Clear blue skies and brilliant Spring sunshine marked the European Leadership Conference, April 9 -11, in Huize Glory, Noord Holland, prompting one UPF-NL Ambassador for Peace who had cycled 10 km from Alkmaar station for the Saturday afternoon conference to decide to stay over into Sunday. The theme of the conference was "The Significance of Marriage and Family for Peace in the 21st Century" and it was a notable that a number of Ambassador for Peace couples attended all or part of it: Dr & Mrs Beelaerts van Blokland, Dr & Mrs Van Eekelen, Mr & Mrs Santoe, and new AfP Drs. & Mrs J.M.R. Heinrchs.
Vervolg:


It coincided with the UPF lectures increasing emphasis on the Blessing in addition to "Marriage & Family", lecturer Tim Miller explaining how the World Peace Blessing had developed from being a ceremony conducted for Rev. Moon's own religious followers, to become inter-religious through the Family Federation for World Peace and Unification, then to include Universal Peace Federation Ambassadors for Peace and others.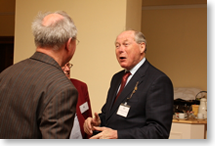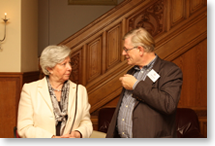 Dr & Mrs Beelaerts van Blokland in discussion
In addition to the UPF lectures there were a number of other talks and presentations that consciously or subconsciously emphasized how politics alone could not bring peace between communities and nations. Friday evening was devoted to the Middle East. Dr. Willem van Eekelen talked of the "Need for a new Beginning in the Middle East", but he was not hopeful that even the five most basic guarantees - three of them being that Israel not be attacked, that Israel stop expanding, that Jerusalem be the capital for both Israel and Palestine - would be given by the various parties. He suggested there might be an armistice and that the West put more pressure on Israel to stop its settlements building. Dr. van Eekelen was accompanied by his wife Hanneke. They were blessed in San Marino last year. He is equally supportive of her campaign for better education for dyslexic children.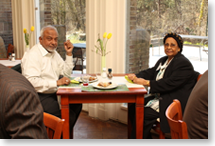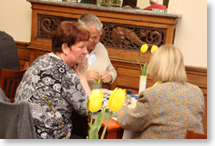 Mr & Mrs A.S.A. Santoe and Drs. & Mrs J.M.R. Heinrchs
Jerusalem Hug
Rob Schrama, very active with the Jerusalem Hug, proclaimed that the belief in a political solution of the Middle East conflict had disappeared and that there ought to be another way - and that was the way of the heart, that when we find peace in ourselves and when we are able to forgive, world peace will come closer. The next "Jerusalem Hug" on June 21, will involve international participants joining with Israelis and Palestinians, "in love and unity, to hold hands, sing and pray for peace and respect for all humankind". So convinced is Schrama of the value of spiritual, ceremonial and culture initiatives, that he is also involved in plans for a marathon between Jericho and Jerusalem, encouraging runners to carry a "burden" to the Temple Mount in Jerusalem, where there will also be a "pyramid of light". After his talk, Mr. Schrama was presented with an Ambassador to Peace Certificate. He was accompanied by fellow activist Guido Hoogenboom who intends to resurrect his Fly a Kite for Peace in Middle-East initiative. Dr. van Eekelen enthused about the two men's passion, not thought to be so common in the Netherlands.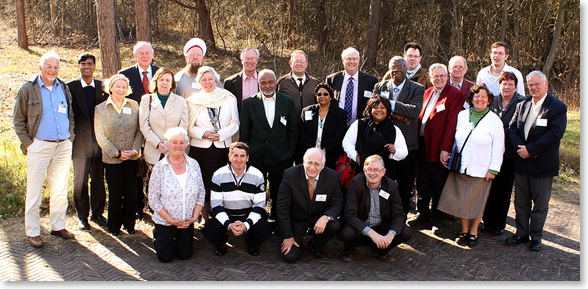 Promoting peace in Afghanistan and Iraq
The theme of the Saturday Conference was "Promoting peace in Afghanistan and Iraq", and, again, the first speaker Dr. Beelaerts van Blokland, did not attempt to unravel Afghanistan's complex political situation, but appealed to religious and humanitarian sensibilities, talking of the challenge to help the people come out of poverty, grant more respect to women and receive education. In the Netherlands, people had realized that if they did not cooperate, the sea would engulf them, that while they might not yet feel they were one family, all would benefit if they began by committing themselves to being members of a common society. We could never know how our planning would result, but we should always try and shake hands and reject war. Afghanistan was in a difficult situation, it was unfortunate that support had not been offered after the Soviet forces had been driven out, allowing the Taliban to develop. We needed to create a real partnership, and focus on reconstruction, as had already been done in those areas where there was less conflict. And while we might wish for 'good governance', less corruption, we should also be concerned at the supply of arms to the Taliban from countries that were supposedly opposing them. Dr. Beelaerts talk was full of compassion and commitment to help others less fortunate.
Experiences of a military chaplain
Drs J.M.R. Hendrichs served as a Chaplain to the Dutch military in Iraq and spoke of his experiences there, which he said had changed his life. He had had serious misgivings about the invasion, but felt that his prime responsibility was to his countrymen posted there. The Dutch had tried to help the people there but all foreigners were mistrusted. Before World War One, the Sunni and Shia had lived in peace together, there had even been much intermarriage, but since then, the two groups had become polarised and after Saddam's oppression had disappeared conflict between them began. The Americans' removal of all Saddam's Sunni administration had been unwise and their promotion of democratic elections was somewhat unrealistic, given the country's history of 50 years of oppression following other non democratic forms of government. Mr. Hendrichs said the Iraqis wanted peace and the large number of young Iraqis was a cause for hope, but it was necessary that the oil riches be shared with all and that the foreign military remain, and show respect for the religious traditions there, including the holy sites (he had organized visits to such historical places as Ur, the city of Abraham). He saw the religious leaders as a major key to peace: when the imam's were 'quiet', the people in general followed their lead. It was vital that there be respect between the religions and cooperation between the foreign NGOs operating in Iraq. They were so many people with fundamentally incompatible aims, the Iraqis needed to disarm, develop people and diplomacy.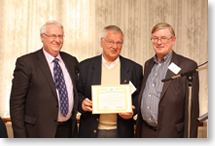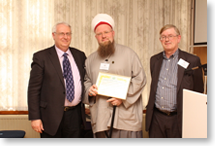 New AfPs J.M.R. Hendrichs ( left picture) & Dr. Hashim Jansen
Mr. Hendrichs was also accompanied by his wife, and after his talk he was presented with an Ambassador for Peace certificate; as was Dr. Hashim Jansen, a native Dutchman and Sufi imam, now serving a community in Germany. He told some participants earlier how he had once been asked by a woman to perform a funeral service for her father, who had been a Roman Catholic and been married to a Moslem, but had died without belonging to a particular religion, though he did believe in God. A priest and an imam had refused her requests, but Dr. Jansen had been happy to create a ceremony to satisfy the need. On a different note, he had formerly studied architecture and was much impressed with Glory House, in particular the interior, as was Mrs. Beelaerts, another of the accompanying spouses, who was visiting Glory House for the first time. As always, participants enthused about the facilities, environment, service and atmosphere.
Little Angels Ballet Tour promoted
Adding to the sense of the way religion and culture can help promote peace, the Saturday cultural evening included the showing of a short film announcing and explaining the upcoming world tour of the Little Angels, expressing Korea's gratitude to the nations that helped protect the country during the Korean war, often called the forgotten war. Another special feature was Dr. Hashim Jansen sharing amusing stories from Sufi culture and wonderful singing from Carlos Figueroa and Marlene Waal.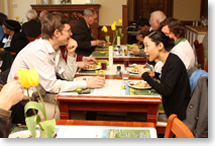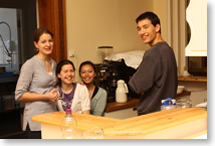 Guests, members & UPF youth staff