UPF - Secretariaat
Kamelenspoor 60
3605 EC Maarssen.
Tel: 0346-572989
Tel: 070-3835938
E-mail: info@upf-nederland.nl

---
Citaten
"Een mens begint pas te leven zodra hij voorbij gaat aan zijn eigen beperktheden en zich betrokken gaat voelen bij het wel en wee van de mensheid"
Martin Luther King Jr.
"Ieder mens is geweldig omdat ieder mens kan dienen. U hoeft geen diploma van de universiteit te hebben om te kunnen dienen; u hoeft Plato en Aristoteles niet bestudeerd te hebben om te dienen. U hoeft de relativiteitstheorie van Einstein niet te kennen om anderen te dienen. Alles wat u nodig heeft is een hart vol dankbaarheid"
Martin Luther King Jr.
"Je moet eerst zelf veranderen wil je de verandering in de wereld zien."
Mahatma Gandhi.
"Kunt u zich herinneren hoe theorieën over elektrische stroom en onzichtbare golven bespottelijk werden gemaakt? De kennis over de mens staat nog steeds in de kinderschoenen."
Albert Einstein.
"Er komt geen vrede tussen de volkeren zonder dat er vrede komt tussen de religies."
Hans Kung.
"Zalig zijn de vredestichters want zij zullen Gods kinderen genoemd worden."
Jezus, Mattheus 5:9
"Het eerste wat we moeten doen is Gods rijk in ons zelf zoeken. Daar ligt de vrede. Zodra we de vrede gevonden hebben, hebben we onze steun gevonden en tevens onszelf."
Jnayat Khan.
Indien iemand je een vuistslag geeft, doe dan niet hetzelfde. Ga naar zijn huis en zoen zijn voeten."
Sikhismen, Adi Grant.
"Als je naar God gaat dan vind je vrede in je hart."
Islam, Koran.13.28
"God is vrede, Zijn naam is vrede en alles is samen gebundeld in vrede."
Jodendom,
Zohar, Leviticus 10b
"Door Zijn genade kun je absolute vrede vinden."
Hindoeisme,
Bhagavad Gita 18.61.62

Nieuws vervolg:
San Marino decor voor World Peace Blessing
De 36ste European Leadership Conference in San Marino had als thema: 'De Betekenis van Huwelijk en Gezin voor Vrede in de 21ste eeuw' en voorzag in een weg waardoor Ambassadeurs voor Vrede uit 17 naties, en met een van de vier grote religieuze wereldtradities als achtergrond, met elkaar verbonden konden worden. Deze innerlijke verbondenheid werd bekrachtigd op de laatste dag van de conferentie tijdens de feestelijke ceremonie van de World Peace Blessing, gehouden in San Marino's sfeervolle nationale theater op 23 januari 2010.
Vervolg:
People began arriving on Thursday, January 21, for the weekend conference, and by the time Saturday afternoon arrived, the 120 participants in the Leadership Conference, which included former government ministers, Members of Parliament, global leaders in Interfaith, a General of Police, leading academics, media professionals, NGO officers, and religious leaders, were ready to deeply understand the Holy Wine Ceremony as an instrument of grace to connect to God's true love, life, and lineage. Their joyful faces as they shared the cup of wine or nectar and ready hearts to participate in the ceremony to remove the resentment of centuries of hurt between men and women bear testimony to the level of common heart that was reached.
San Marino provided such a welcoming venue: from the embrace of our local UPF Chair, Giorgio Gasperoni, his family and their wonderful young friends, who were such willing and helpful staff, to the Ministry of Tourism, who offered their patronage.
This picturesque community of about 30,000 people in the Italian peninsula is the longest continuous republic in the world since its founding at the start of the 4th century by a Christian stonemason fleeing persecution. It is an extraordinary nation in miniature but one which plays its active part in global institutions from the Council of Europe to UNESCO. Mrs. Fausta Morganti, former Education Minister for 15 years and Regent (Head of State) in 2005, welcomed all to Hotel San Giuseppe on the hillside below the famous three towers of the old town.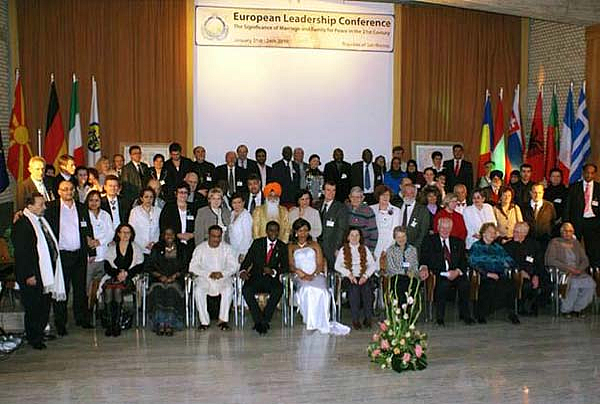 We felt as though the Theatre Titano was tailor-made for our joyous Blessing event as a troupe of medieval performers welcomed us at the door and the dignified stage and elegant stalls and balconies held us in a warm embrace. A beautiful banner announcing the World Peace Blessing rose at the height of the ceremony to reveal a video recording of True Parents' Invocation in Korea last October, while Dr. Yong Cheol Song and his lovely wife represented them with dignity throughout the whole ceremony.
Standing tall in the front row was the imposing figure of Mr. Taj Hamad, Secretary General of UPF International, in the white turban and robes of his native Sudan. He contributed greatly to the conference by sharing news of the international work of UPF in 2009 and the vision ahead for 2010. Mr. Hamad was deeply moved by the wonderful interfaith prayers from Christianity, Hinduism, Sikhism, and Islam and the Congratulatory Addresses by Riccardo Venturini (representative of San Marino to the Council of Europe), Lord Tarsem King of the United Kingdom Parliament, and Dr. Willem van Eekelen, former Dutch Defence Minister and tireless supporter of European unity.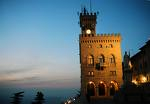 Het middeleeuwse centrum van San Marino met een blik op de Adriatische Zee
Dr. van Eekelen shared about his 53 years of married life and how the weekend had brought him and his wife to reflect deeply on the preciousness of marriage and family as an instrument for peace. Marcus Braybrooke, President of the World Congress of Faiths, spoke of how the whole experience called him to give more attention to marriage and family in his ongoing preaching and interfaith work. Lord and Lady King are yet another distinguished couple who stand as wonderful examples of enduring love and who joined in Father and Mother Moon's God-given task to reconnect humanity as one family under God through the grace of the Blessing. This was indeed a time of rejoicing and of new beginnings connected to the love of God expressed in family!