UPF - Secretariaat
Kamelenspoor 60
3605 EC Maarssen.
Tel: 0346-572989
Tel: 070-3835938
E-mail: info@upf-nederland.nl

---
Citaten
"Een mens begint pas te leven zodra hij voorbij gaat aan zijn eigen beperktheden en zich betrokken gaat voelen bij het wel en wee van de mensheid"
Martin Luther King Jr.
"Ieder mens is geweldig omdat ieder mens kan dienen. U hoeft geen diploma van de universiteit te hebben om te kunnen dienen; u hoeft Plato en Aristoteles niet bestudeerd te hebben om te dienen. U hoeft de relativiteitstheorie van Einstein niet te kennen om anderen te dienen. Alles wat u nodig heeft is een hart vol dankbaarheid"
Martin Luther King Jr.
"Je moet eerst zelf veranderen wil je de verandering in de wereld zien."
Mahatma Gandhi.
"Kunt u zich herinneren hoe theorieën over elektrische stroom en onzichtbare golven bespottelijk werden gemaakt? De kennis over de mens staat nog steeds in de kinderschoenen."
Albert Einstein.
"Er komt geen vrede tussen de volkeren zonder dat er vrede komt tussen de religies."
Hans Kung.
"Zalig zijn de vredestichters want zij zullen Gods kinderen genoemd worden."
Jezus, Mattheus 5:9
"Het eerste wat we moeten doen is Gods rijk in ons zelf zoeken. Daar ligt de vrede. Zodra we de vrede gevonden hebben, hebben we onze steun gevonden en tevens onszelf."
Jnayat Khan.
Indien iemand je een vuistslag geeft, doe dan niet hetzelfde. Ga naar zijn huis en zoen zijn voeten."
Sikhismen, Adi Grant.
"Als je naar God gaat dan vind je vrede in je hart."
Islam, Koran.13.28
"God is vrede, Zijn naam is vrede en alles is samen gebundeld in vrede."
Jodendom,
Zohar, Leviticus 10b
"Door Zijn genade kun je absolute vrede vinden."
Hindoeisme,
Bhagavad Gita 18.61.62

Nieuws vervolg:
Conferentie en 'Peace Gathering' in Den Haag
Op 15 maart vond op de Pier in Scheveningen in het kader van UPF's 'Global Peace Tour 2009' een internationale vredesconferentie plaats, alsmede een 'Peace Gathering', beiden met als motto: 'One Family under God'. Onder de sprekers bevonden zich Mark Brann, secretaris generaal van UPF Europa, die sprak over "A vision for peace in the 21st century". Ook aan het woord kwam dr. Willem van Eekelen met: "The European Union, a model for peace and prosperity". Drs. Lucile baroness van Tuyll van Serooskerken, kinderpsycholoog en senior adoption consultant, sprak over: "Education of Character and Family Values".
Vervolg:
Miss Maartje Bos (Stichting Ghana Haarlem) talked about 'Service Projects in Ghana' and Japanese Ambassadors for Peace, visiting the Netherlands to support the Peace Tour, performed a Japanese 'Dragonfly Dance.'
Evening program
The evening 'peace gathering' was opened by an interreligious little group of three men, each giving an invocation according to the tradition of their faith: Prof. M.K. Gautam of the Hindu faith tradition was followed by Abdul Haselhoef, representing the Muslim faith and by rev. Jacob Korff who represented Christianity. They all asked for God's blessing and presence during the evening's gathering for peace. Then the AISA Sufi choir from Almere performed a stylish and melodious religious song, praising the name of Allah.
Before the main speaker appeared on the stage, three eloquent experts in their field each gave a talk relating to building a world of peace. Mrs. Hanneke van Eekelen-Wentink spoke on 'Three Dimensional Thinking' while Prof. Gautam reflected on UPF's core values. Dr. Beelaerts van Blokland, the evening's 'host' then again welcomed Mr. Mark Brann from England who gave the keynote speech "One Family under God: A New Vision for Peace in the 21st Century'.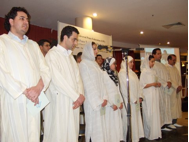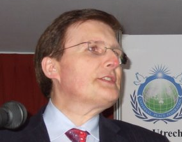 'Now is a time when lasting change is possible'
Mr. Brann: 'Almost everyone in the world would agree that we are living at time of global crisis. The attention of most governments, the G-20 and the United Nations is currently focused on the ongoing worldwide financial chaos. On top of that, there is the continuing challenge of ongoing conflict and violence flaring up all over the world. Even more fundamentally, we face a growing moral and spiritual crisis, evidenced in the rise of family and marriage breakdown, divorce, the spread of sexually transmitted diseases and the growing number of young people alienated from society and prone to violent and anarchic impulses'.
'Another serious concern for people of every nation is the issue of human care and protection of the environment. We need to respond more quickly and more consistently to the global challenges of climate change, deforestation, deteriorating air quality, water and soil contamination, to name but a few'.
Understanding the root causes of our problems
'Despite these challenges, I believe that the universal appeal of the vision to create 'One Family under God' testifies to the fact that we do live at a time when lasting change is truly possible, if we are able to understand the root causes of our problems. This is the main purpose of the Global Peace Tour and the Global Peace Festivals, which are promoting a platform of interfaith cooperation, strengthening the family, and a culture of service for the sake of renewing our communities and nations. We are looking for nothing less than a moral and spiritual awakening rooted in the universal vision of 'One Family under God.'
He talked of 'the Dream of God,' the importance of an interfaith effort for peace, and the need for a "culture of service." After giving examples of some of UPF's activities around the world, he finished, "Together, let us dare to dream the greatest dream of all! Let us own the dream to create 'One Family under God.'"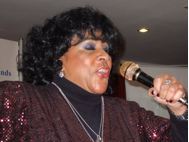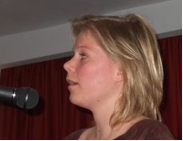 After the speeches: beautiful music!
After the speeches, Dutch singing legend Milly Scott sang a special Peace Anthem and the sublime "From a Distance" (first made famous by Bette Midler). She then galvanized everyone with "Mine Eyes Have Seen the Glory of the Coming of the Lord," so that everyone was on their feet and dancing by the time she started singing "When the Saints go Marching In."
Conclusion of an extraordinary gathering
In conclusion, Dr. Beelaerts presented miss Maartje Bos with an Ambassador for Peace certificate, waxing lyrical in fulsome praise of her presentation and work, and continuing with a bardic, even theatrical appreciation of everyone's contribution to the day
It was an extraordinary occasion, which drew together people of a multitude of social, cultural, national, racial, and religious backgrounds, including those of differing convictions within the same religious tradition, for example, traditional Muslims, Sufis and Ahmadis, all united in the determination to do what they could to fulfill the "greatest dream of all, One Family under God."